Bertam Perdana 2 Phase 1E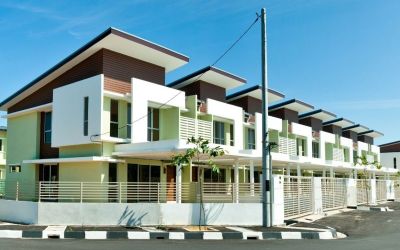 Terraced houses are a staple of the Malaysian housing development-the requirements are pretty much standard; ie. at the ground floor, the spaces typically consist of a study room, living room, kitchen, dining room and a bathroom; and at the 1st Floor, the spaces are a master bedroom with its en suite and 2 smaller bedrooms and a family area. Bathrooms for the bedrooms on the 1st Floor are normally shared although for bigger plot sizes, there are designs where individual bathrooms can be accommodated.
Malaysian housing development tends to be conservative in that the developer needs to be able to market and sell a product which will appeal to a wide audience. Although innovation is a requirement, the design ultimately needs to take into account the construction costs as well the sales price of the project. For terraced housing, plot sizes are typically 20' x 70' although in certain areas, the lot sizes have been increased to 22' x 70'. With a front required easement of 20', the architect has very little room to maneuver. In certain cases, the terraced houses are designed to 3 storey, again the market forces dictating this condition.
The significance of Bertam Perdana 2- Phase 1E, is in the architecture form, a departure from the standard pitched roof house design typically found in Malaysia as well as the choice of material used. It is a modern, daring design. The colors chosen are also refreshing and bold for the scheme, which departs from the normal earthy tones that we see in the housing market. The plots that the buildings sit on are also curved, thereby accentuating the form and the massing. Layering is used for both the front and side elevations, in order to provide depth as well as privacy to the occupants.
The construction is basically a r.c framed construction on a suspended slab. Walls are cement and sand brickwork with plaster and paint and natural anodized aluminum windows. Metal deck roof on galvanized iron trusses is used for the roof construction. The interior finish for the ground floor is porcelain tiles while laminated timber boards are used for the rooms. The toilet and kitchen floors are constructed of non slip ceramic tiles while the walls are lined with ceramic tiles. The design allows for a skylight at the 1st Floor to ensure that all areas have natural daylight penetrating into the space.
Client: Bertam Properties Sdn. Bhd.
Architect: Ar. T.Y. Au
Concept Design: ATSA Architects Sdn. Bhd.
C&S Engineer: Mastech Consult
Infrastructure Engineer: Jurutera Nusantara Bersekutu Sdn. Bhd.
M&E Engineer: Jurutera Teras Bistari Sdn. Bhd.
Land Surveyor: Jurukur Bestari
Quantity Surveyor: KPK Quantity Surveyors Sdn. Bhd.
Main Contractor: Prisma Lapan Sdn. Bhd.
Completion: 2011